How can I create a promotion?
Often Hoteliers create promotions to increse their revenue. By creating special offers with discounts and other perks, guests feel that by booking with your hotel, they will get the "something extra" or even the best cancellation policy.
On the booking engine, the promotion will always be shown 30 days before the promotion arrival date and 15 after the last day. 
Related Questions:
---
STEP 1:  First you need to go to REVENUE > PROMOTIONS.
STEP 2:  Click on "New Promotion" or use the shortcuts available for the most common promotion types, by selecting them and clicking on NEW.
STEP 3:  Select the promotion type:
Early Booking - to enable promotions when booking in advance
Longer Stays - to establish a minimum stay restriction
Social - to define a promotion valid only for your facebook fans and/or twitter followers
Flash Deals - to define a promotion valid during a specific selling period
Packages - to create a promotional package with additional services (meal plans, spa gifts...). This content cannot be indexed. It can be added in the promotion description content
Voucher - to create marketing campaigns and accept vouchers as a payment method
Meal Plan - to provide special meal options to your clients
Returning Guests - these promotions will only be available to returning guests (the system uses a cookie)
Free Days - Promotions that have Free days regarding minimum stay restrictions. It will allow to maximize long bookings
Holiday - to automatically target specific holiday dates for different countries (England, Germany, Portugal, Spain and United States)
Custom - to create a promotion mixing all the settings/restrictions according to your needs.
---
Promotion "Returning Guests"
When a guest books a room or a promotion, a cookie is saved with the ID of your hotel.
So when he returns to your hotel the guest can see this promotion.
Please bear in mind that as a guest:
Before booking a room or a promotion, they will not see Returning Guest in the booking engine;
If they don't allow cookies to be saved, the promotion is never shown.
If they change browser/pc or clear cookies the promotion will not be visible.
---
STEP 4:  Enter the promotion's name and flag the option ACTIVE.

STEP 5:  Insert a Teaser and a Long Description.
The "Teaser" will have visibility on the booking engine and the website, so make sure you enter something appealing
In the "Long Description" field you can write all the information you want people to know when clicking "" in the offers list on the Booking Engine.
It's also possible to insert a PDF on the Long description of a promotion. For that, you just need to click on the PDF icon and upload the PDF you want to use, or choose one that is already on the system

STEP 6:  Select the DEPOSIT AND CANCELLATION POLICY, from the drop down list.

STEP 7:  Add a picture, by clicking on 

.
STEP 8:  In the ROOM TYPES section, define the PROMOTION RATE TYPE by selecting one of the following options:

DISCOUNT/INCREASE
It allows to either add a Discount or to Increase the Room rate with a Percentage % or an Amount  (e.g. €, £, $, etc).

This rate type does not affect Meal Plans, only the Room Rates  
SET PRICE PER WEEKDAY
This allows the hotel to set a specific Discount/ Increase, of a % or an Amount  (e.g. €, £, $, etc).

FLAT RATE
This allows the Hotel to define a fixed price per night for each room type.
PROMOTION PRICE PER NIGHT you introduce the price that you want to sell the room.
RETAIL PRICE PER NIGHT you can introduce the OLD rate that will appear strikethrough in order the client to see and compare the amount saving on the booking engine as it is displayed on following the image:

FREE DAYS
For more details about Promotions with Free Days, please check: How can I create a promotion with free days?  
STEP 9:  Under the social marketing and special restrictions section, you can define whether this is a promotion restricted for twitter and/or facebook.
PROMOTION CODE - only guests with a code can proceed with a reservation
You may click on "GENERATE PROMOTION CODE" to set a random code

PLEASE NOTE: You can have more than one promotion code per promotion and you can use the same promotion code on different promotions, just have in mind that when a guest uses said promotion code, he will see every single promotion that is attached to it. 

The promotional codes are also available for the MOBILE.

For more details about social media promotions, please check: How can I create a twitter or facebook promotion?
STEP 10:  Create the new promotion's details/restrictions, according to the promotion type selected before, by entering the following information: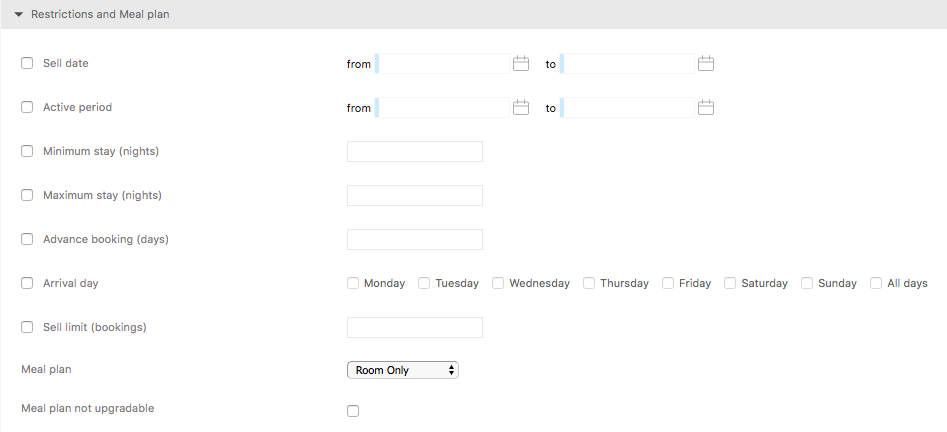 If the promotion does not have any min/max stay and the room has, it will consider the room's restrictions (most restrictive option).
SELL DATE - enter the dates when this promotion

will be available to book/sell online

;
ACTIVE PERIOD - enter the stay dates this promotion relates to
MIN/MAX STAY - enter the number of nights restriction (example: minimum of 3 nights, maximum of 7 nights) if applicable. If the promotion does not have any min/max stay and the room has, it will consider the room's restrictions (most restrictive option).
ADVANCE BOOKING - enter the number of your advance days for an early booking discount;
ARRIVAL DAY - select the weekdays

you allow for check-in

within this promotion;
SELL LIMIT - define the

total amount of booking

you want to accept within this promotion;
MEAL PLAN - define which of the available meal plans you want to associate with the promotion;
MEAL PLAN NOT UPGRADABLE - The meal plan previously defined will be default one (which means it will cost 0€) and the only one available. 
STEP 11:  Make sure you save all the information entered by clicking on the 

 button.
STEP 12:  After clicking the Save And Close button, the promotion must be published. If you have Guestcentric as Channel Manager and if this promotion is already mapped on the channels, a pop-up message will appear asking you to publish the changes directly on the channels.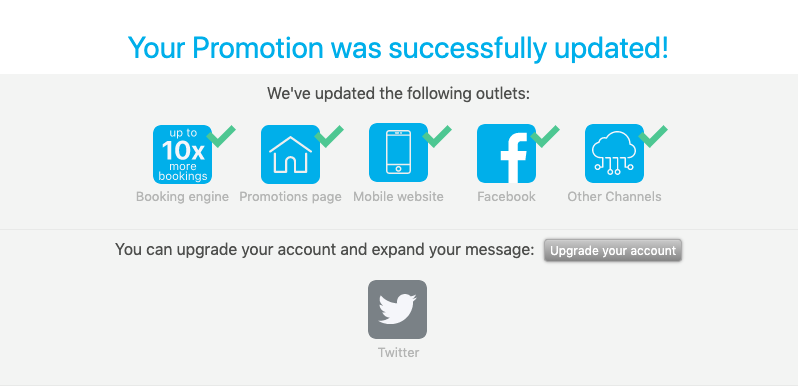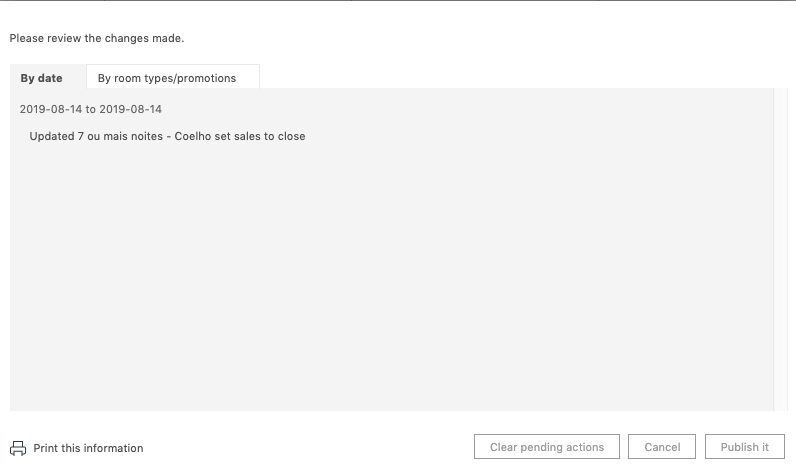 ---
How will a promotion appear on the booking engine?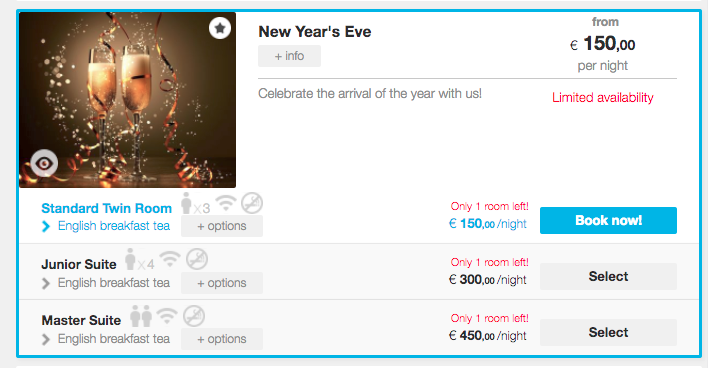 How will a promotion appear on the website?