How can I link promotions to be sold on my other OTA channels?
Whenever you want to have a new promotion on a OTA Channel and map it to Guestcentric, you must first create the promotion on OTA Channel side and then guarantee you create the same promotion on GuestCentric side.
This way you can have the Rates and Availability mapping running as expected. 
---
Before proceeding with the promotions mapping, please bear in mind the following important remarks:
1. Promotions with the following restrictions cannot be mapped to channels:
Promotions with a SELL DATE active/flagged (i.e.Flash Deals)
Promotions with PROMO CODE
Promotions with a SELL LIMIT (not yet supported)
Promotions with an ADVANCE BOOKING DAYS
Promotions with FREE DAYS
2. These two options are available to book, but it's restrictions won't be accepted on the channel and these must be configured directly on the channel:
Promotions with a sell limit (not yet supported)
Promotions with an ADVANCE BOOKING DAYS
NOTE:
These restrictions cannot be controlled outside of the application scope (i.e. channels) and for this reason they are excluded.
This means that only "Longer stays, Meal Plans and Custom (without above restrictions)" promotions can me mapped.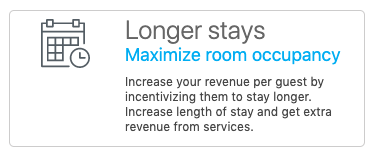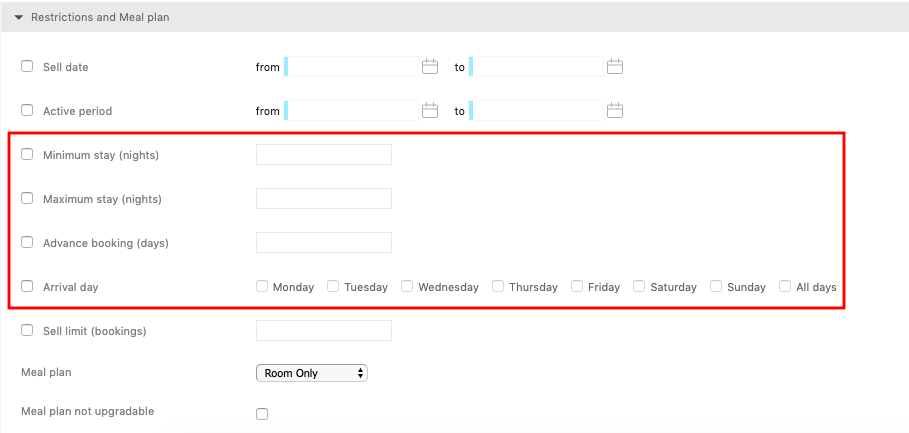 Regarding promotion restrictions, always consider that our system will apply the most restrictive options, for instance:
MinStay: if you create a promotion, with Min stay , the rooms min stay will be ignored;
MaxStay: if you create a promotion, with Max stay , the rooms max stay will be ignored;
            - If the promotion does not have any min/max stay and the room has, it will consider the room's restrictions (most restrictive option).
            - If promotion has min/max stay it will consider promotion min/max stay no matter what.
            - If the promo has a min stay and has no maximum stay restriction applied, then it will find the room maximum.
            - If the promo has a max stay and has no min stay restriction applied, then it will find the room minimum.
Arrival date: All dates will be closed as "CTA" until the beginning of the "arrival date" and it will close all dates after the end of the "arrival date" again as CTA. 

Open/Stop Sales: If the promotion is open but room has stop sales it will consider room stop sales. If room is open and promotion is closed it will consider promotion closed day. (most restrictive option)

CTA (Close To Arrival)/CTD (Close to Departure): If the room has CTA and promotion is open to arrivals, the booking gadget will consider room CTA. If promotion has CTA but room is open it will consider promotion CTA. (most restrictive option)
---
STEP 1:  Go to SETUP > CHANNEL SETTINGS
STEP 2:  Select the desired channel row by double-clicking on it.

STEP 3:  Click on LOAD ROOMS button:
Make sure you receive a similar success message:

STEP 4:  Select the promotions (for each room type within) from the drop-down list and link them with the ones available under the channel offers:

NOTE:
You MUST link all room types within the promotions with the offers available at the channel side.
On the field there should not be left behind any room type to link.
STEP 5:  Click SAVE for each combination and continue to add the remaining rates (room types/promotions).
STEP 6:  After mapping all promotions available, please click on

 and confirm that you wish to update your channels settings.
STEP 7:  To complete the process you now need to go to the REVENUE tab and click on REVIEW & PUBLISH CHANGES

Assure that all details displayed on the Publish Summary window are correct and then click to Publish it. 
---
ATTENTION:
Revenue updates made to room types (rates/availability) will also affect mapped promotions:
If you update rates on a room currently associated with a percentage or fixed amount reduction, the promotion rate will be updated on the channel;
If you update minimum/maximum stay restrictions, the promotion will be updated according with the most restrictive option;
- If you update the percentage or fixe amount of the promotion, this change will not reflect on the channels. A new promotion needs to be created; 
- If a promotion is inactivate, this promotion cannot be used for the linkage with an OTA rate. A new promotion should be created with the same characteristics. 
NOTE:
Please bear in mind that although Guestcentric supports all restriction settings as described above, some channels might not accept those settings, and therefore those restrictions will not be applied on those channels.