How can I create a new external booking engine?
This feature will allow the hotel to create a custom External Booking Engine, according with the hotel needs:
i.e.: domain language, default country, specific offers and layout.
This code can be inserted in every website page (or a blog for example) in which you wish to have the hotels Booking Engine gadget.
---
STEP 1:  First you need to go to the SETUP > External Booking Engine.

---
STEP 2:  Click on New button.
STEP 3:  Type a Domain title and select the land language:
---
 STEP 4:  On Settings section you have few options where you can select:
To hide the room availability warning;
The default country that you wish to have on your booking engine.

---
STEP 5:  On the Booking Engine Offers section, you ca choose the offers you want to include on the booking engine.
Select the offers on the left side box and move them using the arrows to the right side box.

STEP 6:  On the Additional Fields section, you can select some additional fields that will be displayed bellow the notes on the booking engine:

[ For more details about how to create custom fields on the booking engine, please click here ]
---
STEP 7:  Click on the

 button.
STEP 8:  On the External Booking Engine tab select the new Domain and doble click it:

---
STEP 9:  On the view external booking engine tab, scroll down until the layout settings.
Select your preference and click "Preview":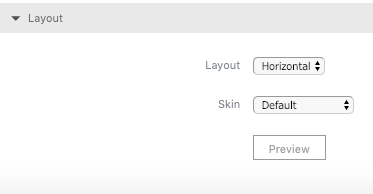 Layout can be "Horizontal", "Vertical" or "Link"
Skin can be the "Default" one, the template "Corporate" colour, web "Black" or web "White"
---
STEP 10:  Copy the code into every page where you want to insert the booking gadget.
---
NOTE:
Please note that every code is unique and will develop a different layout:
CODE FOR HORIZONTAL LAYOUT:

---
CODE FOR VERTICAL LAYOUT: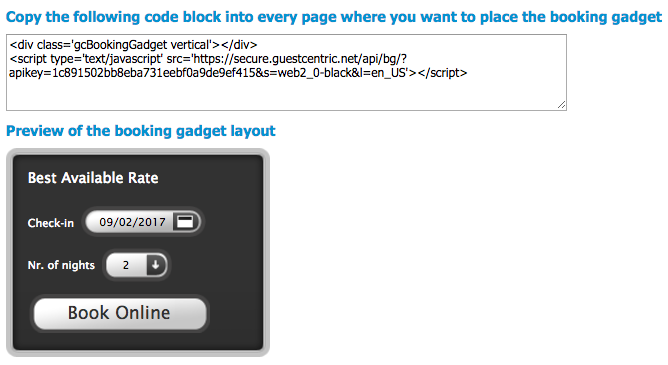 ---