How can I publish only one webpage?
If you are working on a website, you can use the Publish Page tool to update the page. It is not necessary to republish the entire website. This way you can speed up the page update process
To do this, proceed as follows

Step 1: Open the page you want to edit
---
Step 2: There are two options
First option - When you are ready to publish the webpage, simply click on the "Publish Page" option
---

---
Second Option - You have just edited your webpage why not save and publish
---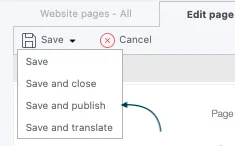 ---
Step 3: What about translations? Does it work as well? - Please check
---

This makes editing web pages even faster!
---
ATTENTION: 
If the website does not update, please clear your browser's cache and access it again. Check here How can I refresh my browser's cache? 
If the pages are still not updating correctly, please contact us so we can help you and support figure out what is going on.