How can I insert the ReviewPro widget?
This widget is available to all clients including Portals however in order to have access to it, clients need to have access to ReviewPro services first.
---
STEP 1:  First you need to go to the WEBSITE tab.
STEP 2:  Select the page you wish to add the widget by double-clicking on it
Or by clicking the

 

OPEN

 

button.
STEP 3:  Click on the EDIT button, find the AREA in which you want to insert the widget and click on the "Insert Review Pro" button.
Or click on the

 

Insert

 

button, and select the

 

"Insert Review Pro"

 

button.

STEP 4: When clicking on the widget, a dropbox window will open showing all details. From there, the hotelier can select one of two types of widget: Square or Long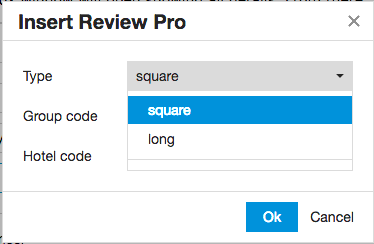 STEP 5: To use this, clients have to insert the Group Code ( also known as Domain String) and Hotel Code - these codes are provided by ReviewPro to the hotelier.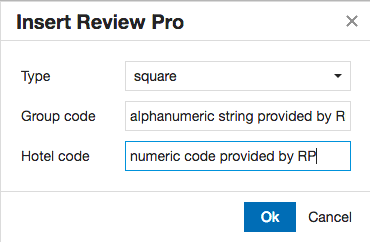 NOTE:
Clients with Click2Portugal template - Either if the widgets are set in Description or Extra Info field, they will be displayed on the left side of the property page
Clients with another templates - This widget will work as any other widget
---
Please bear in mind:
You can only use one reviewPro widget per page. 
Group and Hotel code are mandatory for the widget to function correctly, however ur platform will not validate those mandatory fields;
Saving a widget with a "Long" type for example, when we click on the widget again we will see it as "Square" - this is due to the widget nature