How can I activate my website on Instagram?
HOME > SOCIAL MEDIA AREA > How can I activate my website on Instagram?
Hoteliers have now the possibility to have Instagram as a Social Marketing account.
Please take note:
    • Instagram accounts must be Business and need to be linked/ connected with the Facebook page. 
When you open Instagram to authorize it ( SETUP > HOME > SOCIAL MARKETING ACCOUNTS), you will notice that the authorized buttons will be disabled. The status will just reflect if the authorization was done or not.
  • This is now updated on the Facebook Authorization procedure.
---
Clear the integrated business on Facebook

Before activate Instagram account, in case you have already the integrated business on Facebook you must remove it as follows:

1 – Login in on Facebook account > Settings > Business Integrations
2 – Select Guestcentric Application CMS and remove it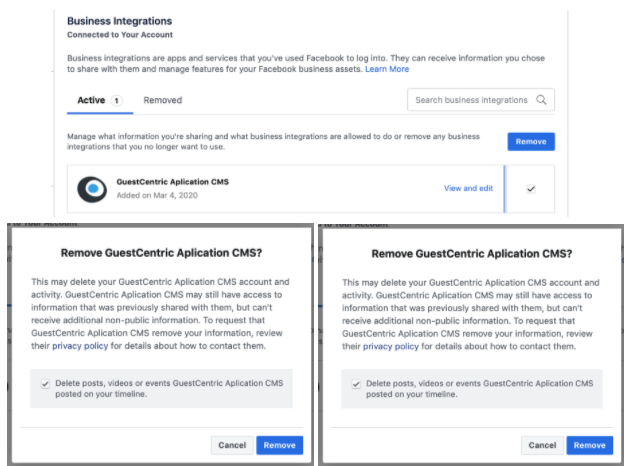 ---
STEP 1:  First you need to go to SETUP > HOME > SOCIAL MARKETING ACCOUNTS

STEP 2: Select Facebook and click on the "Edit" button. Move the status to Authorized and save it.

STEP 3: Please proceed as the next images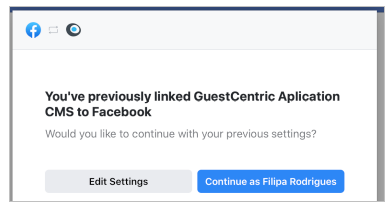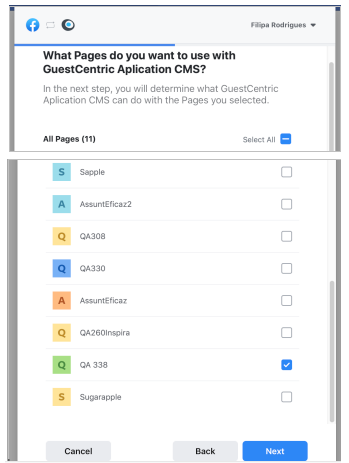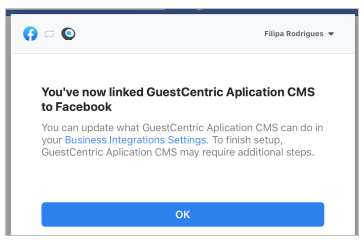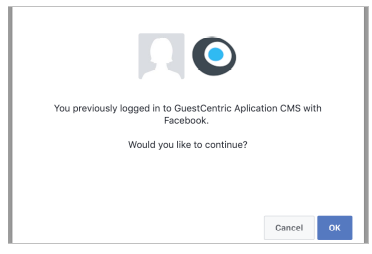 ---
Note: the Instagram, that previously was inactive, is now automatically "Authorized"
Bear in mind:
  • Marketing> Reputation:

Instagram posts are pending due to permissions from the Facebook end. Once it's authorized, you will be able to see Instagram posts.

How to add the special offers page on a Facebook page?
The procedure is the same when activating a Facebook page but the exception here is:
If you wish to have the Special offers tab on the Facebook page it must have a minimum of 2000 Likes.
---
Hoteliers can also include the Instagram link on all customers email templates.
Go to Setup - Home - Email templates - Email templates design
Choose the template design you want to add the Instagram icon, click Edit and under the Social media links page you will see the Instagram option.