Google Search Console
Google Search Console allows webmasters to check indexing status and optimize visibility of their websites.
The intention of this guide is to make the process of setup, submission and linking Google Search Console to Google Analytics a simple one.
---
ATTENTION: This feature is only available for clients that are using individual Tags only. We don't advise the use of this feature fients that are using Google Tag Manager 
---
This e-card is divided in 3 sections:

1) Search Console Website setup.
2) Sitemap submission.
3) Link to Google Analytics
1) 

Search Console Website setup
1.1. Setup - Add Hotel's URL
1.1.1. Visit Search Console Website (https://www.google.com/webmasters/tools/home)
1.1.2. Select the "Website" option from the dropdown menu
1.1.3. Insert website's root domain (E.G. www.hotel.com not www.hotel.com/homepage)
1.1.4. Click on "Add property" button

1.2. Setup - Verification of Ownership
1.2.1. Once selected "Add property" button, this page will appear: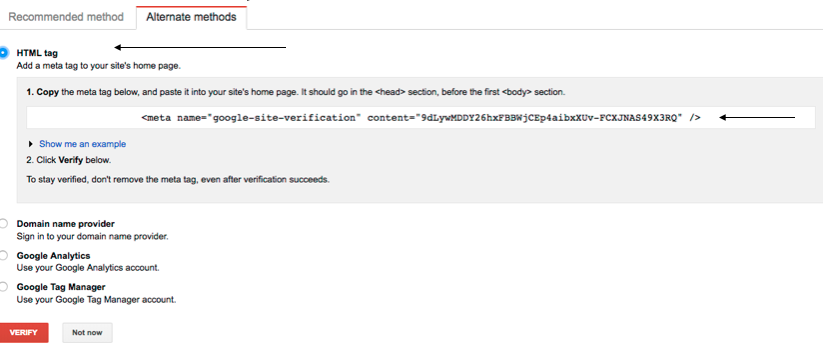 1.2.2. Select "Alternate Methods" Tab
1.2.3. Select the "HTML Tag" option
1.2.4. Once selected, copy the Meta Tag in the whte box (this code will be needed later on Guestcentric aplication)
1.3. Setup - Verification of Ownership
1.3.1. On Guestcentric aplication, please go to "SETUP" area
1.3.2. Select field "Set Google Credentials"

1.3.3. Under "Google Webmaster" insert the Meta Tag code from the 1.2.4 point

1.3.4. Publish the website changes in order to implement the changes made

1.3.5. Get back to Search Console website and click on "Verify" button - After, this message should appear:

2. Sitemap Submission
2.1. Site submission - Add Hotel's Sitemap URL
2.1.1. On Search Console Account, select the property and click on Sitemaps

2.1.2. Click on "Add/Test Sitemap" button,  add "sitemap.xml" on the Box and click on "TEST"

2.2. Site Submission - Confirm Accurate Submission
2.2.1. After testing Sitemap, results should be similar with the following screen:

2.2.2. After submiting the Sitemap, this second screen should appear (please remember to refresh the page in order to confirm changes)

3. Link Search Console to Google Analytics
3.1. Link Search Console to Google Analytics - Finding Search Console on Google Analytics
3.1.1. Go to Google Analytics website and select the property
3.1.2. Find the "Search Console" section on the left menu (under aquisition)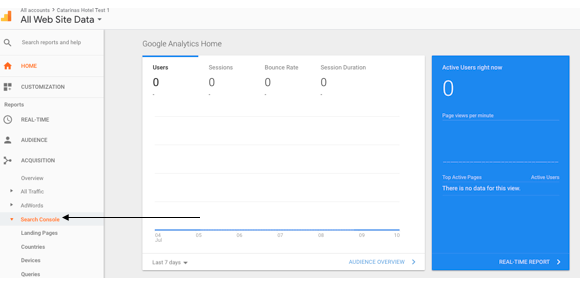 3.1.3. Click on any of subsection and the following warning should appear. This will take you to the Google Analytics Admin. page where clients can setup it with Search Console: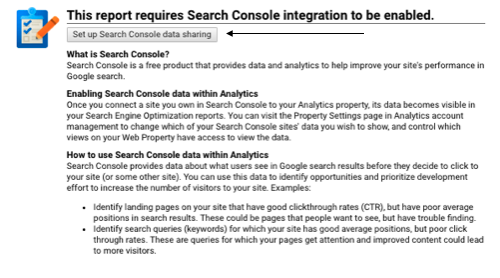 3.2. Link Search Console to Google Analytics - Admin. Settings
3.2.1. Scroll down the Admin. Page until you reach the Search Console section. Then click on "Adjust Search Console".
3.2.2. Click on the "Add" button/link in order to add your Console Search property

3.2.3. Selet the property and click "SAVE"

3.3. Link Search Console to Google Analytics - Link Confirmation
3.3.1. The following message will show up. Click on the "OK" button

3.3.2. The following message will show up. Click on the "SAVE" button

3.3.3. After clicking "SAVE", Search Console subsections should now show data