How can I check my Revenue Dashboard?
STEP 1:  Click on the DASHBOARD tab.
STEP 2:  On the left navigation menu, select REVENUE DASHBOARD. 

Revenue - ∑ Revenue
ADR - ∑ Average Daily Rate/days with reservations
RevPar - ∑ Revenue / ( total inventory rooms * total period days )
Average Occupancy - [ Total room nights / ( total inventory rooms * total period days ) ] * 100
Room Nights - ∑ Room Nights
---
- The hotel can compare this year's revenue results, with last year's revenue results
Which is the percentage below the total of Revenue, ARD, Occupancy, RevPar, Room Nights and Direct

---
- The same yearly comparison is also visible in the chart and can be hovered over for further detail

---
- On the table you can compare: Week, the total of Revenue, ADR, number of Reservations, Nr. of Nights, Average Stay (Nights per Reservation) and Booking Pace (days)

- To check which reservations generated the revenue for your specific search, you can double click any number on the table and the Reservations tab will open with the list of those reservations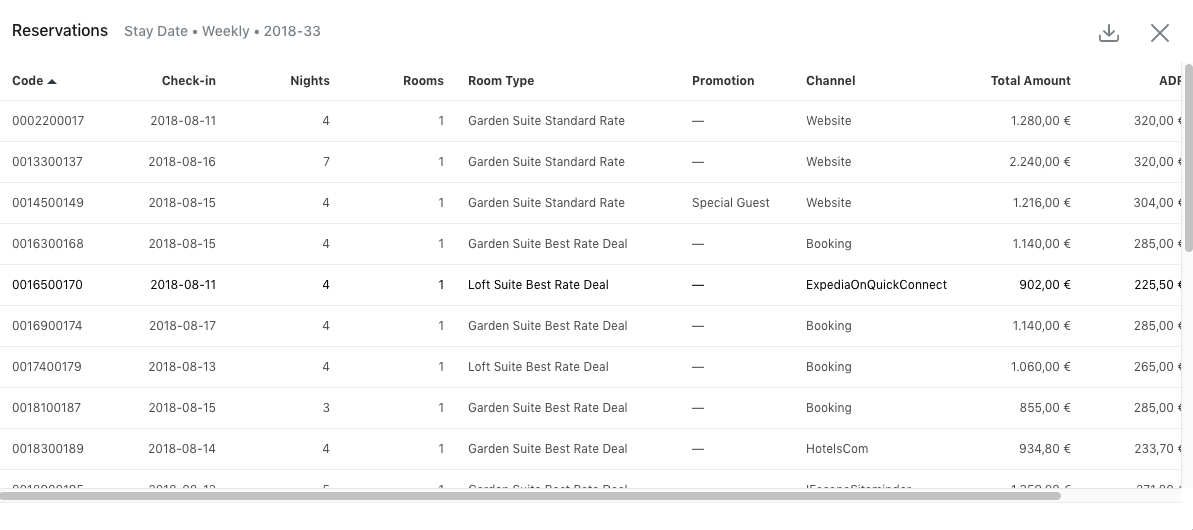 ---
PER CHANNEL 
By default, the option "All channels" is selected. But when clicking on it, the dropbox will show all the channels either if they are active at the time or not. You only need to have one reservation made on the channel.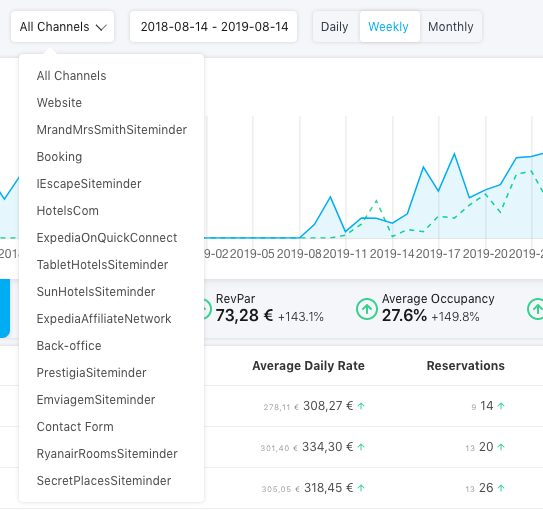 The pie chart will only show the top 5 channels. If there are more than 5 channels the pie chart will show "others" (sum of the remaining channels) as a channel.  
---
ATTENTION:
This report does not include bookings with status: CANCELLED / DELETED / INQUIRY / ACTION NEEDED .
You can have different views according to the filters you choose on the calendar, as explained here. 
You can also export the report results to excel, by clicking on the relevant button at the top right corner of the report .