How can I add anchors to my website content?
STEP 1:  First go to WEBSITE tab.
STEP 2:  Select the page you wish to add the anchor and double click on it
STEP 3:  Within the content area, select the text to which you want to add the anchor.
STEP 4: Click on the insert link icon  

usign the example below, the anchor will be the word "relaxing"

---
STEP 5:  Enter the word of the anchor, after a # sign: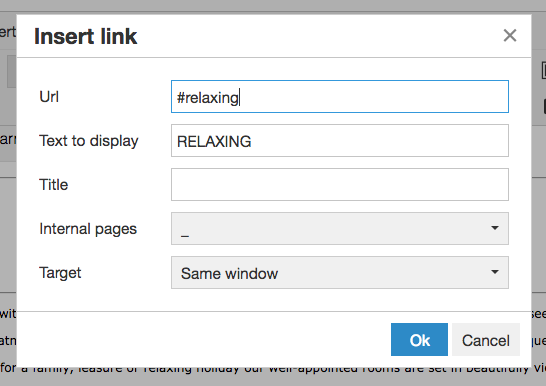 STEP 6:  Click on OK.
STEP 7:  Select the text/sentence you wish to add the anchor and click in the anchor icon.
Using the example above, we would like that when customer click on the word "relaxing", they will be re-directed to the word "spa".

STEP 8:  On the next screen enter the anchor name, using the same text you entered before on step 5 (and without the # sign):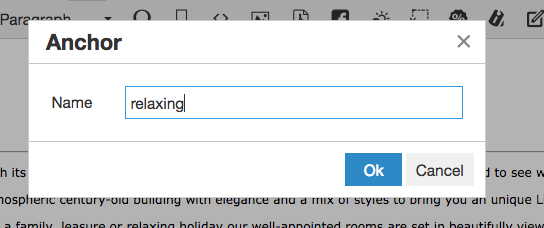 STEP 9:  Click on OK.
The relevant text will now appear preceeded by the anchor symbol as shown here:

STEP 10:  Make sure you save all information by clicking on the 

 button.
STEP 11:  Under WEBSITE tab, click on PUBLISH CHANGES, so that all this information becomes available at your website.