How can I insert Points of Interest on my location map?
HOME

>

SETUP AREA

>

 How can I insert Points of Interest on my location map?
With this configuration, hoteliers can add Points of Interest on their location page, so clients can be aware of nearby atractions that could appeal for them stay.
STEP 1:  First you need to go to Setup - Home - Location and Maps (or from Location Webpage).
STEP 2: On the new search box on the map, search for a Point Of Interest that you, as a hotelier, would like to show on your location webpage.

As the nearby hotels add points of interest in the area, you will see those as a suggestion as well
It's not necessary to add the Points Of Interest insered by other hotels. They will be shown as a suggestion
STEP 3: When adding a Point Of Interest, click on it ffollowed by a click on "add", and this Point of Interest will change from grey to the color of the category that it belongs and the button Add will be replaced by Remove.
NOTE:
You can filter your Point Of Interest by category. By default no category is selected and all are shown, if you wish to add them, category by category, for example, just check categories to see only Points Of Interests from that.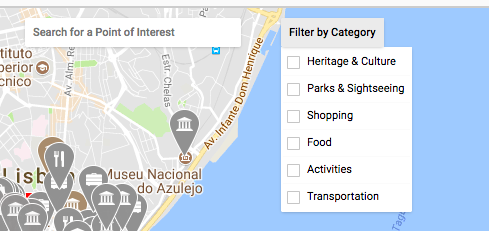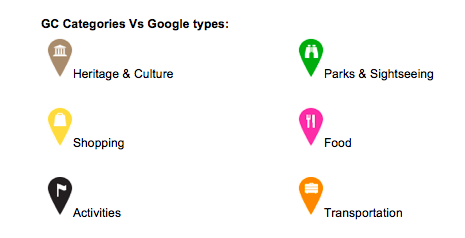 ---
WARNING:
A Point Of Interest can appear as "Not Listed" - They are added with a Guestcentric category that matches Google types. Unfortunately not all added POIs are well categorized in Google Maps meaning that a well know place may not be as so, leading to a "Category not listed" warning message in our backend.
If you haven't edited you Location and Maps webpage, please follow this e-card that will give you the Step-By-Step to do it: