How can I manage Cancellations in Rate Plans?
How can I manage Cancellations in Rate Plans?
You are now able to configure Cancellation policies separately from Guarantees policies.
STEP 1:  SETUP > PAYMENTS > CANCELLATIONS

STEP 2: By default the system provides you three cancellation policies:"48hours", "Non refundable" and "Fully Flexible" - can be to inactivated.

STEP 3: Its possible to create new Cancellation policies, and add it to the Room types and Rate Plans.
To create a new cancellation policy, please click on the "NEW" button.
STEP 4: Enter the details according to your needs
Active

 

- If it's active it will be possible to assign it to Rooms/Rate Plans
Policy Teaser

 - The policy hightlight text that appears on the Booking Engine

Cancellation Policies: The text describing the policy.
Cancelations Rules: The behavior and setup of the policy
---
Example: For a full payment of the reservation if cancellation is made 5 days prior to checkin date then you should insert the number 5 in the first box and the number 100 in the second box. Can be set by %, by number of nights or by a fixed fee (€).
STEP 5:  Make sure you save all information entered by clicking on the "SAVE/SAVE AND CLOSE" button.
To assign offers, you can select the "ASSIGN OFFERS" button.
You are now able to change and select the Cancellation policy you want to the room or Rate Plan.
Don´t forget to "restore cancellation policy" tick box when you change a cancellation policy for an existing room type/rate plan.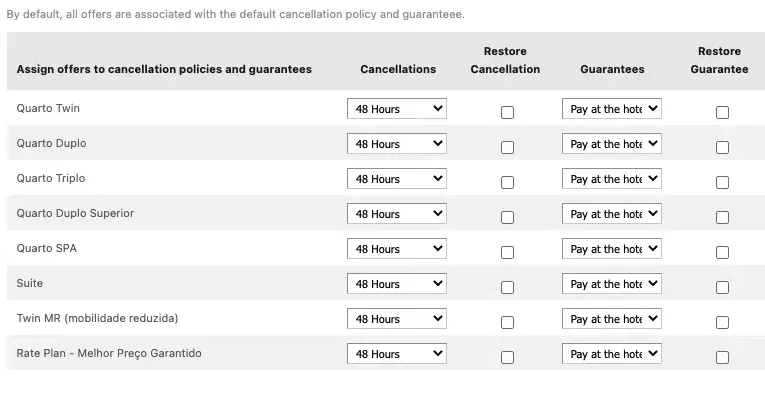 ATENTION:
Please note that after a cancellation policy is created you can only change the Cancellation description, not the rules.
In order to have all the new room types and rate plans with the right policy, you must set the policy you want as default - "Set as Default" button.
In order to

 

translate the cancellation policies, you should access Website/Booking engine tab > Translate > Setup