How can I edit a contact form?
In this area it' s possible to edit the contact types that will be shown on your website page.
STEP 1:  First you need to go to the WEBSITE tab.
STEP 2:  Select the page where you wish to edit the Contact Form and Edit the page
STEP 3:  On the "page introduction" section and select the CONTACT FORM  (it will be highlighted as blue) and click on the icon  INSERT CONTACT FORM button.
---

---
STEP 4:  A modal will prompt with all available options. You will be able to activate the options you want to display.
The default contact types available are:
General question
Reservation inquiries
Meeting and Events information
Compliments/Concerns about previous hotel stay
Group requests
Career opportunities
Partnershhip
And you can also add new types by clicking on Add option
---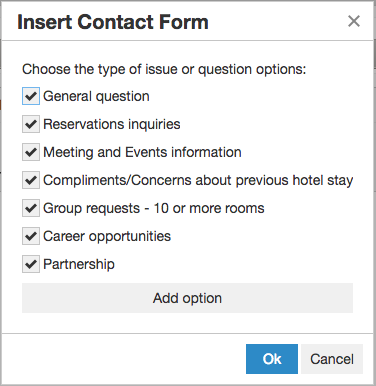 ---
STEP 5:  By default, all options are selected and you can select only the ones you want or create new options.
---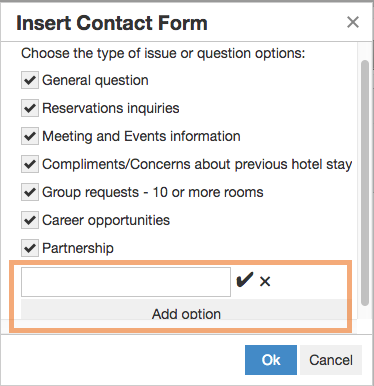 Remember to select it if you wish to have it displayed on the Website.
---
STEP 6:  Click on OK button.
STEP 7:  Make sure you save all the information entered by clicking on
.
STEP 8:  Click on PUBLISH ALL CHANGES button.
---
ATTENTION:
- If you wish to be notified of all new contacts made through the website, you must add an email address on the setup  area - please click HERE to know how.