How can I deactivate the reservation inquiry?
The reservation inquiry will allow the visitor to make an availability request with more details regarding his possible reservation. 
This inquiry will automatically be displayed in the Reservations area with the source channel as "Contact Form", giving you the opportunity to upgrade it to an online reservation in the GuestCentric system.
In case you are not interested, you can deactivate this inquiry and present a simple contact form with a general area for informations. This form can be placed in any of the pages; nevertheless, we suggest to be displayed on the Contacts Area. 
---
STEP 1:  First you need to go to the WEBSITE tab.
STEP 2:  Select the page you wish to place the Reservation Inquiry by double-clicking or by clicking on the OPEN button. Then, click EDIT.
STEP 3:  If you wish to place this inquiry on the Contacts Area's page, find the PAGE INTRODUCTION section.
In any other page, check the PAGE CONTENT section. 
STEP 4:  Select the Contact Form incon on tool's bar. 

---
STEP 5: It will be presented a window where you can deactivate the options you don't want to display.
Select the option box of the Reservation Inquiries to deactivate it.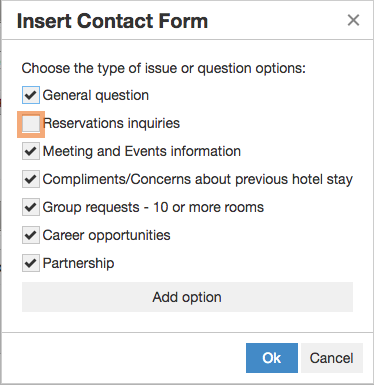 ---
STEP 6:   Click INSERT and the form will be updated to not work as a Reservation Inquiry.
---
STEP 7:   Make sure you save all the information entered by clicking on the 
 button.
STEP 8:   Do not forget to publish your changes, under WEBSITE tab, by clicking on PUBLISH CHANGES, so that all this information becomes available at your website.
---
NOTE:
For more details about contact forms, click here to know How can I add the contact form to my webpages?