How can I add the contact form to my webpages?
STEP 1:  First you need to go to the WEBSITE tab.
STEP 2:  Select the page you wish to add the contact form by double-clicking or by clicking the OPEN button.
STEP 3:  Click EDIT button, find the PAGE INTRODUCTION section and select the contact form icon.
---

---
STEP 4:  It will be prompted a window where you will be able to activate the options you want to display.
By clicking on ADD OPTION, you can also add other options that might not be available by default.
---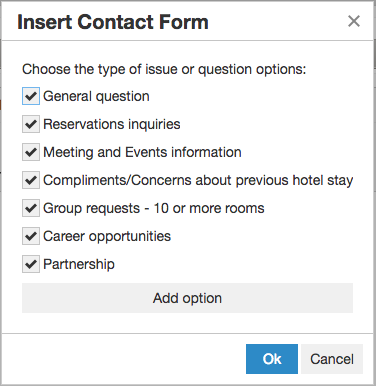 ---
 STEP 5:  Click on INSERT and make sure the contact form gadget is displayed below, as shown here:
---

---
STEP 6:  Make sure you save all the information entered by clicking on
---
ATTENTION:
Do not forget to publish your changes, under WEBSITE tab, by clicking on PUBLISH CHANGES, so that all this information becomes available at your website.