How can I activate my website on facebook?
With this e-card you can follow the step-by-step of how to integrate your hotel on Facebook. The integrations of the hotel on social media is very important to promote the business and to ease the hotel's revenue.
---
STEP 1:  First you need to make sure that you are logged in to your hotel facebook page, with an adminstration user profile.
STEP 2:  Go to SETUP - SOCIAL MARKETING ACCOUNTS (hotel backend)
STEP 3:  Select the Facebook option and click on EDIT
STEP 4:  Add your facebook page URL to the relevant field and click on AUTHORIZED
STEP 5:  Click on
STEP 6:  Confirm the next 2 messages, by clicking on YES.
NOTE: Make sure a new window is popped up to authorize your connection.
           This window will close automatically as soon the authorization is granted.
Your facebook account status is now AUTHORIZED.
STEP 7:  Refresh now your hotel facebook page, scroll down and the on left side you should be able to see your new SPECIAL OFFERS icon, as shown here:
---
ATTENTION: It's also possible to change the display of the facebook icon:
STEP 1: On your admin page, on the top of the page, just above your banner click on SETTINGS.
STEP 2:  Select the option Edit Page - it's the 3rd option available on the list.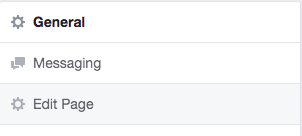 STEP 3:  Open the Special Offers tab by clicking on Settings and then click on Edit Settings
STEP 4:  A new window will be shown and you can do 2 things:
Change icon image

- For this purpose click on CHANGE button near Custom Tab Image.

This will prompt a new window, click again on CHANGE and then on BROWSE, in order for you to be able to select the custom image you wish to update.
Change icon name

- Replace the default name (Special Offers) with the name you wish to display and click on SAVE and OK.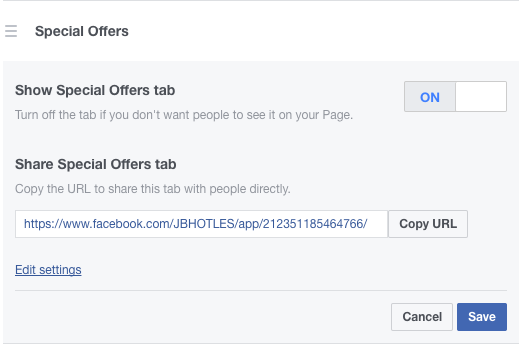 After the last step, you will be able to see your updated icon on Facebook.
NOTE: 
You can also change the icon positioning, in order to give more relevance to it.
         - For this you just need to click on SWAP POSITION WITH until you reach the position wanted.